Would you like to support the renovation of the tennis courts and multi use games area at Burniston & Cloughton Village Hall for the whole community.
£30 per square with the What3Word location and a Certificate of Sponsorship, plus an invitation to the Opening Event expected to be Spring 2023.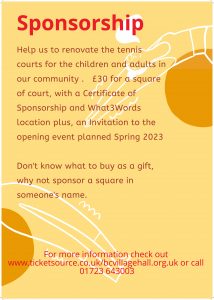 Don't know what to buy as a gift, what about sponsoring a square in someone else's name.  
Please contact 01723 643003 for further details or pay directly on www.ticketsource.co.uk/bcvillagehall and we will send the information to you.