'Village Life'
As part of the Jubilee Festival fundraising event, we are holding a photography competition.   The competition is open to anyone from Burniston or Cloughton Villages, and children who attend Lindhead or Scalby school or local clubs.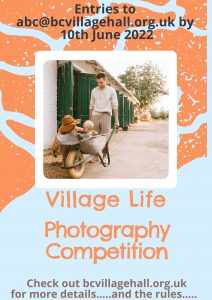 The judges will be looking for pictures that depict life in Burniston and Cloughton, interesting places in the village and everyday life.   We will be looking for 12 pictures suitable for a 2023 Calendar and for use in the 'Love Exploring' app.   https://loveexploring.co.uk/
The judges will base their decision on the Judging Criteria.
The following gives information about how the competition will be run.
Competition Rules
IMPORTANT: if the picture features close-up images of people you must get their permission before you send in the picture. If we choose the picture to publish, we shall need to get evidence of their consent.
VERY IMPORTANT: If the picture features children we shall need parental consent forms signed before we can publish the picture so make sure you get the parent's agreement and contact details before you send in your picture. (This does not apply if the children cannot be easily seen or identified, e.g., in a crowd scene)
Three photographs maximum per person
No professional photographers, retired photographers, or people who receive payment for their photographs
The photograph must be 'as taken' – no editing or photoshop (or any other app) enhancements
The photographs must be taken this year i.e., since January 2022
The photographs must be taken within Burniston & Cloughton Villages
Adult entrants must live in the parish. Children must either live in the parish or attend Lindhead School, Scalby School or formal youth activities in Burniston & Cloughton (e.g., ABC Youth Club, Boys Brigade)
All photographs must be submitted to abc@bcvillagehall.org.uk by 8pm on 10th June 2022 to allow for judging and printing.
Pictures must be received by email (jpegs), with name, age, and address of the photographer to abc@bcvillagehall.org.uk.If you are at school or a youth activity, then please advise which.
Prizes will be awarded to the top 4 photographs in each age groups plus the People's Choice Prize
PRIMARY SCHOOL
SECONDARY SCHOOL
ADULTS
Judging Criteria
The main criterion is the content of the picture. It must be interesting.  It must be in focus.
We are looking for pictures that show what it is like to live in Burniston & Cloughton. They can be taken at a party, or at community group doing something together, or it can show a typical everyday activity like going to the shop or one of the lovely pubs, or anything else you think represents living in our villages.   A place of historic interest, a place of beauty or something quirky.
The People's Choice Award
The top 4 photographs from each group will be displayed in the Village Hall on 19th June 2002 and visitors will vote for their favourite.
The overall winner of the 'The People's Choice Award will be the photograph which receives the most votes on the day from those who come to the Queens Jubilee Festival at the Village Hall.
Meet the Judges
I have had brain tumours and after my last operation, 5-6 years ago I got bored and thought I would try photography and I got hooked.
I like to photograph everything, but I specialise in event photography and motor sport photography.
Born and brought up in the local countryside, I have a passion for the outdoors and am at my happiest when out and about with just my camera for company! I live in the beautiful village of Ravenscar with my Husband, two teenage children and our two dogs. I work in Community Rail on the beautiful Esk Valley Railway Line and love to spend any free time I have out walking with my camera.
Any questions please email: abc@bcvillagehall.org.uk